Roofing for your Home or Business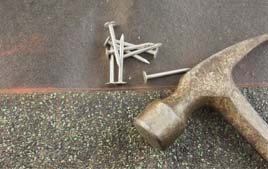 The professionals at Wilmington Roofing are committed to safety, high quality work and customer satisfaction. We take pride in protecting your investment with a long-lasting quality roof. During installation, customers may expect minimal disruption and a safe and clean job site
Because we are not only expertised in roofing but also an unlimited general contractor with experience in residential and commercial construction, we understand the important role a solid roof plays and how it interacts with other home systems and impacts energy efficiency.
Roof Quality Commitment
In addition to offering Wilmington NC homeowners and businesses a full range of re-roofing services, Wilmington Roofing is commited to providing the highest quality roofing experience.
Deep construction expertise

Superior workmanship and quality

Flexibility to offer affordable pricing

Project and budget management skill

Commitment to honesty and integrity

Dedication to communication and customer service
Strong safety controls
Long-term commitment to Wilmington NC community
Experienced & Professional
Personal attention from a construction expert. Wilmington Roofing was founded by Ben Hudson, a third generation builder, with a degree in building construction. He was a licensed general contractor at age 20 and has passed the general contractors exams in both North Carolina and Florida. He is an 18-year veteran of the world's largest construction firm with deep expertise in both commercial and residential construction and renovation.
Leveraging his many years of building experience, Ben Hudson brings his clients the benefit of deep knowledge of the latest construction techniques as well as the business and project management skills to ensure your project stays on time and on budget. From the pre-installation to clean-up and final walk-through, Ben personally oversees each step of the building process to ensure the highest level of quality and client satisfaction.